Good morning quillers, a few days ago I had my try out day, meaning I play around trying out something new in the Quilling world. I think I stumbled on a new version flower petal, but what kind of flower I am not sure. I love the (Huskings technique), and I came up with this whilst working on my Angels for the show, it is easy to do even for beginners all you need is a few pins, strips, glue a cork board to work on, and off you go. I did a large flower just so one can see it better but you can choose whatever size you wish for. Here's wishing you all a great Sunday and good Quilling.If anyone has any questions just ask
Hugs

php?i=146&u=16590269]

[/url]
Toye, this looks very interesting. Thank you for the instructions I will give it a go. I have never seen huskings like this so congratulations.
hi jocelyn, how did it go have you tried out the Huskings. When you have done all the rounds that you want, I found the best way to join them together is by taking all the pins out except the one you started off with. At the same time with either your left or right thumb and first finger hold both sides then slowly bring the two top loops together by pining first one then the other and glue them and go round the whole petal may be twice to give it more firmness. Here is just a small card I did, done with a single on the side of the card und a double round on the main flower.
have a great weekend.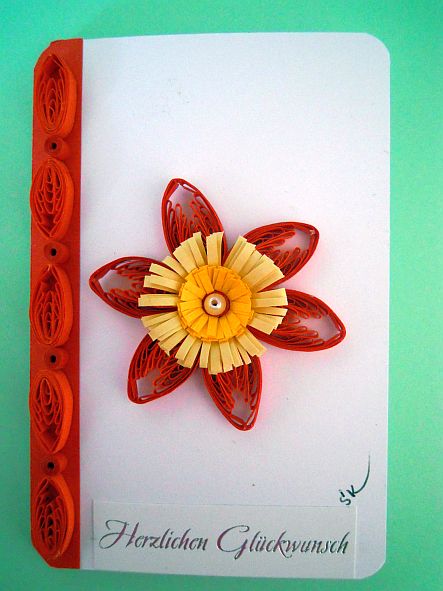 hugs
Beautiful Toye...!

Can anyone tell me where the gallery is on the new website???

KrazeeLdy




Posts

: 369


Join date

: 2011-02-18



Hi Sheree Once you have given yourself a new pass word, then you can get into the Forum and the Gallery you will find it on the left hand side at the top you cannot miss it. In this new forum one haqs to be a member and not just any old one can get into the Gallery.
hugs
AHA!!! Thanks Toye...I found it....

I did miss it... haha!!!

KrazeeLdy




Posts

: 369


Join date

: 2011-02-18



Hi Toye, Thanks for that. I have been practicing and to do the outside strip on the smaller one I used an extra pin, just above and between pins 13 and 14. I then glued the strip at pin 1, wound the strip round the outside and held it at pin 1 with one hand while I removed all but no 1 pin and the extra one I used, then I tightened the strip the bring all the petals towards the centre, glued at pin 1 again and wrapped once or twice more. Sounds confusing but it sort of worked.

Either way it is quite a balancing act but I do like the result and thank you very much for it. Will post a finished product when I have something that looks presentable.
Hi Jocelyn, I find it is the result is important and you feel happy with them, one always finds the best way to do things and be comfortable with what one is doing, hobbies must be a pleasure to do and not a job. Love to see your creation I am sure it will be lovely
hugs

---
Permissions in this forum:
You
cannot
reply to topics in this forum