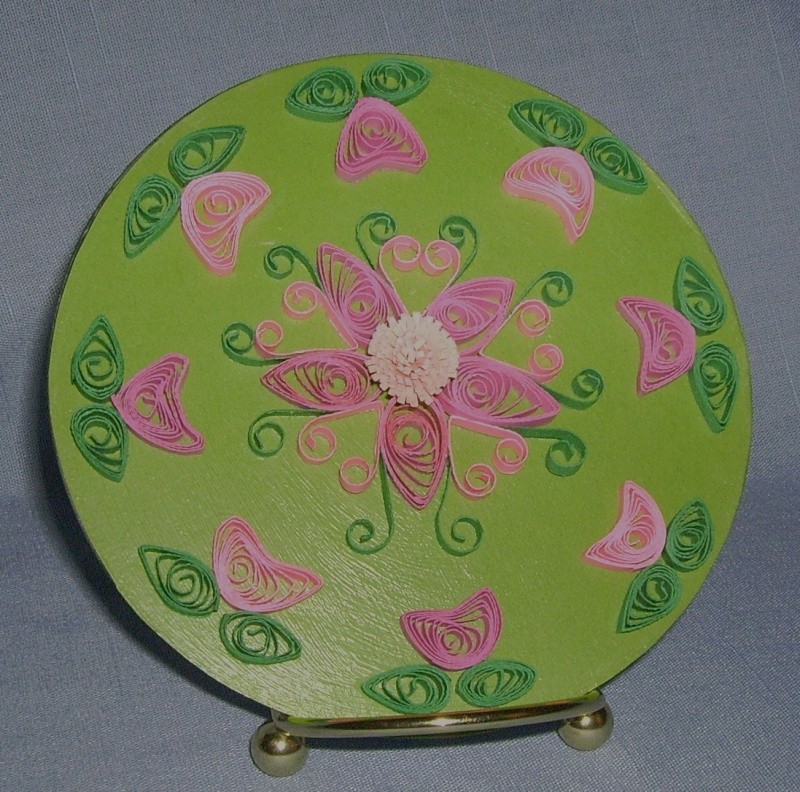 Need:
CD
Small stand as shown
Card stock
1/8 wide paper strips
1/4 wide paper strip 11L
Slotted tool
Scissors
Twizzers
Fringer (can use sissors)
instructions
Place CD on card stock trace the outer CD and glue to CD.
(1) Fringe 1/4''W -11''L light pink roll and glue end to roll. take nail of finger and spread out ward for a flower, put in center of CD.
(2) Make 5 dark pink tear drops1/8''W- 2''L . Glue them around center flower.
(3)5 Green closed shape hearts 1/8'' W-3''L. Glue between each pink tear drop.
(4) 5 dark pink closed heart shape 1/8''W- 2''L, glue inbetween pink tear drops along with the green heart shape.
(5) 16 green tear drops 1/8''wide- 5 1/2 L for leaves glue 2 together for each flower, towards the outer part of CD.
(6) 4 light pink and 4 dark pink 1/8''W- 11'' L coils,take coil and shape it on one sidearound pencil or quilling tool to make it like half moon. Glue them above each 2 leaves. Your done .
Ooh Paula this is lovely and so unique!! I can't believe that something you get plenty of (especially with kids around) that normally go in the bin can be turned into something so beautiful. You know when i looked at that, I thought to myself...what about a clock!?! Not an actual working one but just a decorative quilled clock from a CD. Very clever!! Paula for someone who hasn't been quilling all that long you are very talented and creative!! I can see another Jean in our midst!!
Karon

admin

Admin




Posts

: 714


Join date

: 2010-01-07


Location

: Australia



Thanks for sharing this idea with us Paula! I do think it has lots of potential!

Thanks for sharing.

Cheers,
Belinda.

bZb




Posts

: 89


Join date

: 2010-01-22


Location

: Townsville, Australia



Thank you
I have used CD's before but it was made with eliens, found on internet cut and glued to CD, drilled hole at top edge and used fishing sting to hang them at different length. I did that for my oldest Grandson who is into space and eliens. They are hanging above his bed.
Paula
The clock is a great idea, loved to see one done.
Paula
Hi Paula, your cd stand is very popular and has the most hits for all the patterns!!! Look forward to seeing more of your ideas in here
Karon

admin

Admin




Posts

: 714


Join date

: 2010-01-07


Location

: Australia



Paula,

This is a great idea, I had been thinking of making a mobile as well.

I'll bet your grandson loves his aliens. Isn't it nice having your grandchildren admire your work? Whenever I'm working on something, inevitably one of my grandchildren will ask if it is for them.

Teddie

teddiegrams




Posts

: 43


Join date

: 2010-06-17


Location

: Portland, OR



Thank you Teddy, and yes it is neat having grand children amire my work, we used to do crafts together al ot but since they have grown they are busy with there own lives and School activites. My grandaughter loves my quilling, but she says she wouldnt have the patience to do it, who knows maybe later on she will pick it up!
Paula


Similar topics
---
Permissions in this forum:
You
cannot
reply to topics in this forum