I uploaded 2 new projects, I dont think they are so great, could be better.Hopefully I get out of rut soon,LOL
Paula
Ah Paula do not be too hard on yourself!
Love your frogs.
Your cross pic perhaps needs less colours in it. What I mean by that is balancing the amount of colours you choose for a project.
I read somewhere it is good to work with 3-5-7-9 flowers(odd numbers- 2 look lonely by themselves on a card) do them in the same colours then add in one or two other flower types and green leaves.
You can see, for example the way florists work with colours for bouquets.
Hope this makes sense.
Nonsense! The ocean quilling looks fantastic!





psychedaboutquilling




Posts

: 110


Join date

: 2010-01-09


Location

: Caboolture, QLD, Australia



Thanks for the complements!
Bronwyn thanks for the advise it makes sinceand I'll keep it in mind when I try again. That was 1st attempt to making flowers unless you want to count the fairy picture with flowers. Not good yet with flowers but determind to get better with the arrangements.Thanks again
Paula
I love the froggies too! Did you make the frame Paula? Very nice deep frame, exactly what you need for quilling.
I know how you feel. I had a project I just hated and looked at it once a day for almost 2 weeks but didn't have the heart to ditch it. I bought myself some punches and punched a few leaves and it has put a whole new look to my project that I was up with it til 11:30pm last night! All it took was some vines (punched leaves and long spirals) that just changed the whole look of it and my enthusiasm.
Why not go into the pattern page and try something that you haven't done? Also you could try a couple of google searches on floral arrangements (as Bronwyn suggested) and try something new or get a different perspective on arrangements. I think the thing with quilling is that 1/2 of what we do comes from our creativity and sometimes our brains just take a little holiday. Before you know it, you will be back on your horse (so to speak) and galloping back up that hill. I found this cute fresh flower dog (which I know you love dogs so much). I wonder if you carved the shape out of flower foam and covered it in fringed flowers or roses? If you made the right size you could put it under a dome...perhaps?
Hope that helps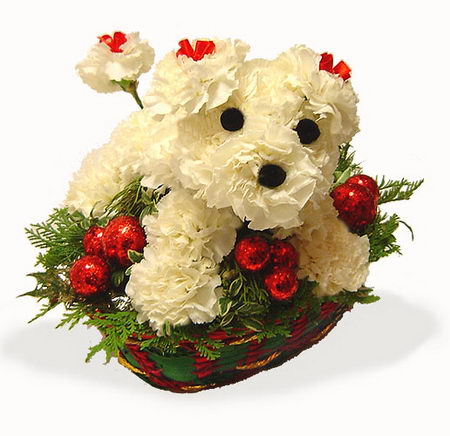 admin

Admin




Posts

: 714


Join date

: 2010-01-07


Location

: Australia



Karon
I found the frame at a thrift store for $1.50 which doe'snt happen oftend.
Would love to see your project that you worked on late at night.
I enjoy looking at other Quillers art it's nice to beable to share something in common.
Sometimes I think we try to hard and thats when our mind goe's blank, like you said taking a vacation,lol.
It dont help when you have Spring fever, wanting to spend time outside ,it's like do I stay in and Quill or do I go and sit outside with my hubby,lol.
I've been trying to make roses and they are not easy,I waste more paper strips trying to make them, but I'm not giving up.
Thankyou for the ideas ,maybe I take a stab at it
Paual
What a great buy!! You'll have us all thrift shopping now. I can understand you wanting to get out after all your snow over there, I saw it on the tv and heard it was the most severe in years. Ours has been a hot summer with lots of rain so that is probably keeping us indoors.
Have you gone to Ann Martins blog page as I noticed she has a folded rose tutorial. A trick I use when doing mine is that I pop a dab of glue every second fold at the base so my rose is a tad tighter and more secure. Keep fiddling. Why not drag your stuff outside and sit on your deck with a coffee, tool glue and strips. If you are worried about wasting strips cut your own off a piece of white paper as practice pieces. Another thing I often do is trim off the end edge of the strip from about 7mm on a 10mm strip graduating out to the 10mm for about 3cm for the center of the rose so it doesn't protrude out so far when you fold it and release it, you can also fold it on that angle too if you like that better
Karon

admin

Admin




Posts

: 714


Join date

: 2010-01-07


Location

: Australia




---
Permissions in this forum:
You
cannot
reply to topics in this forum