To attach pictures, Gallery.
You have a personal album and several categories in the public gallery to share your work. This is for adding to the gallery
* Click on gallery top left
* bottom left you will see you personal album click that
* now you will see an empty box and just under the home link you will see upload pic click
* right now you are ready to add your pic these are the details for the boxes
image: name of your pic
Description: info about the pic
upload a pic from your machine: click browse, find the photo and click on it
upload to category: click the arrow down and choose where you want it or it will go in your personal album only
Once finished click save
Hope this helps
Happy quilling
Karon
www.creativequilling.com.au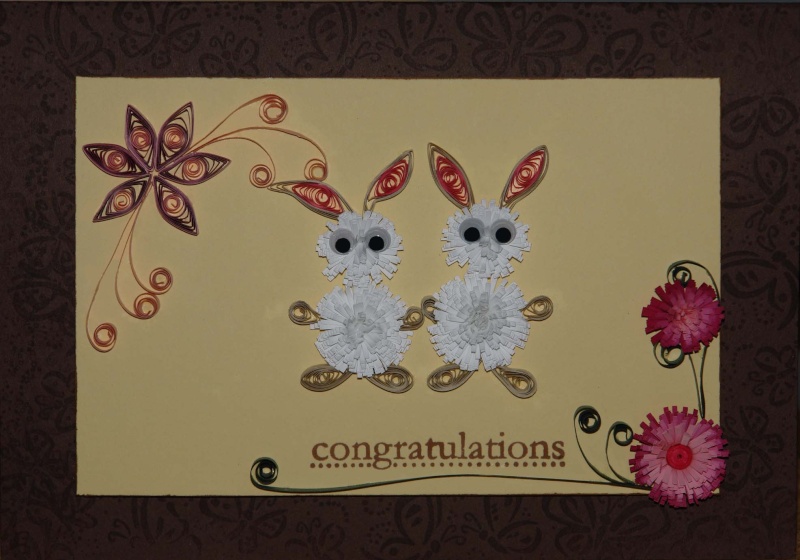 Last edited by Admin on 2010-01-13, 08:39; edited 5 times in total

admin

Admin




Posts

: 714


Join date

: 2010-01-07


Location

: Australia



I

the bunnies, they look so cute!!!
Attaching pictures to your post.
In the middle of your tool bar just above what you are reading there is a button that if you hover over it, it says "host an image". Click on the button and you will be able to browse your computer picture files by clicking on browse. Once you have your image click the button "host it"
three files will come up for you. A thumbnail, an image or image URL. Choose Image by right clicking on the jargon then click copy. You can then right click and past the details on your post. Make sure once you have pasted your jargon YOU MUST CLICK HOST IT. This saves your picture. Once you have finished writing your post you can preview it and the picture will show up. Once you are happy with all the details click send. Any problems let me know and I will be happy to help.
It seems a little confusing to start but it just has that little bit more to offer than most site with a thumbnail or tiny picture. Once you have done it once, you will be right. You can add as many pictures to your post as you like
Karon

admin

Admin




Posts

: 714


Join date

: 2010-01-07


Location

: Australia



If you still have problems with uploading your pics, please don't hesitate to contact me, you can click on the email link on this post
Karon

admin

Admin




Posts

: 714


Join date

: 2010-01-07


Location

: Australia



Thanks Karon for the detailed reply . I will use the info !

anita




Posts

: 5


Join date

: 2010-06-26




---
Permissions in this forum:
You
cannot
reply to topics in this forum