Hi there,

I'm a new member, but have enjoyed quilling for a little while now. I've recently purchased a 90 degree fringer, but am struggling to use it, so much so, that I want to throw it out the window! I almost feel that it's easier to use a pair of scissors at this stage! I've finally managed to get the depth of cut right, but can't seem to change the spacing of the cut. The instructions say that I should be adjusting the screw at the rear of the fringer (but that seems to change the depth of cut). Each fringe is about 2mm wide and I can't seem to get it to the 0.8mm width that it says it can. I've also tried adjusting the screw that's attached to the little wire section in the hopes that the "extra friction" will decrease the amount of paper fed through, but it's not doing anything. There's other problems, but one problem at a time...

If someone has some tips that would be lovely. I'm sure it's a handy "workhorse" to have, once it works. But right now... It's not very enjoyable.

Cheers,
cat.

toothfairy




Posts

: 3


Join date

: 2010-06-03


Location

: Adelaide



G'day Cat

I'm sure if you send a message to Karon she will be able to help you out with the fringer. I use a different style of fringer but I do know how frustrating it can be when trying to get things just the way you want it but cannot figure it out.....only advice I can give is they are very sensitive so just try turning the screws a tiny bit at a time.

Not much help but I tried,.
Cheers
Jo
Hi Cat
Fringers can be quite temperamental and do take some time getting use to them so please email me any time. Try with your turns very small adjustments. Any model fringer are quite responsive to even a slight adjustment.
The different types of fringers you can get in the 90 degree cut seem to vary in 2 styles. The basic all metal fringer that includes makers such as paplin, fred's and lake city craft then there is one larger model made by Johnathan Mayne in Melbourne that has more adjustments, slightly larger and does up to 2cm widths. The difference in price varies from basic $50-$130 for the more advanced model.
I know exactly what you mean as I have both models and my more advanced one I have owned now for about 3-4 months but only just gotten the adjustment exactly how I like it. Before this I kept putting it down and leaving it in favour of my basic model or scissors depending on the project until I got it right. Now I just hope the kids don't touch it. It is always good to choose a metal fringer as they last forever and a day for you.
TIP: When using your fringer with coated papers (gold, silver, etc) feed the paper white side up as the coated side is too slippery to feed through. Different types of paper have a big effect on how the paper feeds through.
Any probs email me

Karon

admin

Admin




Posts

: 714


Join date

: 2010-01-07


Location

: Australia



Thanks Ladies!

Goodness, I must be tired, because it took me a good 5 minutes to figure out how to reply! *oops*

Thanks for the advice. I've gotten to a point where I'm happy with my new purchase. It's comforting to know that lots of other people have struggled before me too! It sounds silly but for some pieces I've fringed, I've gone over with a pair of scissors and cut all the fringes in half again! But it was very even. Hopefully when I get it right I'll put all my flowers together. At the moment I've put it aside to design a card for a baby shower. And I've got a weekend to make it (and maybe something else too!)

Thanks again,
cat.

toothfairy




Posts

: 3


Join date

: 2010-06-03


Location

: Adelaide



Sure, no problems at all Cat. If you liked fringed work you may like also the doubled fringed flower
at
Inna's creations link
Inna's site is just fabulous. Lovely lady with incredible work and loads of great patterns.
Also I used a 3cm strip of silk laid paper that I cut and fringed under a normal fringed flower on the husked butterfly card in purple in the gallery. It was very effective and would look fabulous in other colours. Also fringing strips that are graduated not only in colour but try widths. What I mean is take a sheet of paper and cut from a 2cm width with your ruler down to the end of the paper making it 3cm's. Coil from the 2cm edge to finish at the 3cm end either with or without a center. If you only have white paper try inking your strip both sides either with a stamp or just blotching it over by dabbing your finger on the strip over the ink pad. The result is like this only this flower is folded but you can get the gist of the colour variant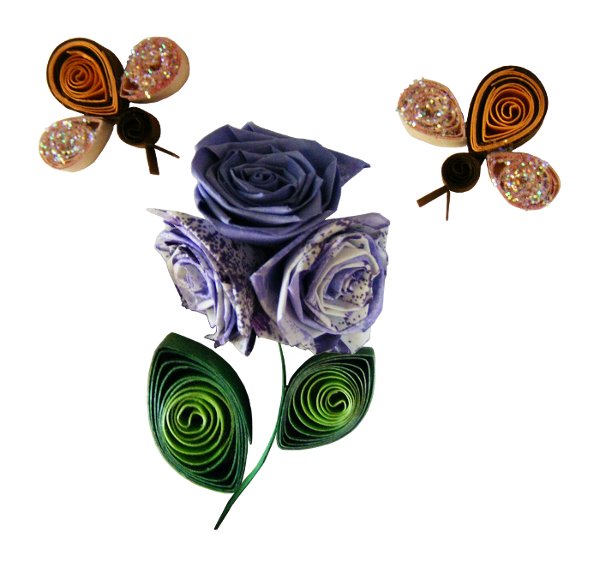 admin

Admin




Posts

: 714


Join date

: 2010-01-07


Location

: Australia



Also Jo is excellent with fringing to ask about. She fringers everything and is the quickest fringer I have ever seen
I reckon if her kids stood still long enough she would fringe them too!!

ha ha Jo!!

admin

Admin




Posts

: 714


Join date

: 2010-01-07


Location

: Australia




---
Permissions in this forum:
You
cannot
reply to topics in this forum