Hi All,
One of my favourite stopping points on the internet is Ann Martin's blog spot called All things paper
All things paper blog
She regularly updates her beloved passion with paper on her blog and you will find some amazing tutorials & patterns here along with her featured quilled pendant in a magnifying glass. Simply amazing!!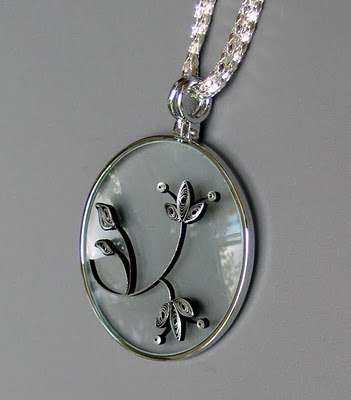 I have put just one photo here of this beautiful piece but do pop along to her blog for a more in depth look at the pieces and a pendant pattern at the bottom of the page. It just looks so fabulous!!
There is so much to see on her site and her passion with paper really comes out in all her work. I think is it fantastic that many quillers share their work freely which teaches and encourages many around the world.
Thanks Ann for sharing your beautiful work and encouraging so many
Karon

admin

Admin




Posts

: 714


Join date

: 2010-01-07


Location

: Australia



I just checked her sight out 2 days ago, it's awsome. Theres so much to check out, I dont think I'll see the end of it,lol . Love the jewlery I wouldnt mind trying that out, maybe some day.
The star shaped paper are so cute!.Alot of neat art.
Paula

All we need is more time to try everything!

I agree more time, just isnt enough of that. Maybe we set our clocks back,LOL I tried,lol
Paula

Thanks for sharing this site. I am really impressed with her work and have added it to my growing list of sites to check each day.


Heather




Posts

: 327


Join date

: 2010-07-17


Location

: Canada



so very dainty lovely quilling love it thanks for showing it to us
miriam


miriam




Posts

: 177


Join date

: 2010-06-16


Location

: Malta



Also I forgot to mention that if you are in a country that makes it difficult to obtain gilded paper (gold or silver edged paper) you can improvise. Take a realm of strips and clip them securely and firmly together. Get a silver or gold marker pen usually available from any newsagency or stationery supplier.
Now traditionally this is not gilding but you can get a very nice effect and it can work out especially economical for you. From some of the ladies who already use this method, they advise it is best to pop your paper together in a small ream of strips (50 or more) and don't do it by single strips as it takes too long and can be quite messy. Coat the edge of your ream of strips, let that side dry first if you are doing the other side too. Ensure that you strips are pressed firmly together so that the ink doesn't spread onto the front of the paper and stays just on the edge ~ this is very important. You can achieve this by taking an old hardcover book and slotting your ream of strips in with just the edge up enough so that you don't mark your book but you can close the book firmly enough to hold the strips together and firmly in place. I suggest holding the book closed on a table with weight on top of it. If by some miracle that you actually do 2 hours of aerobic workouts a day you can try holding it between your knees but I cannot give you any guarantees lol!
The good thing with doing your own is that most gilded edge paper is one sided. You have the option when making your own to do both sides depending upon what you want it for making it more versatile. Please let me know how you go or if you have something else that has worked for you
I hope that helps, I just grabbed this info from an earlier post as it was great to share again
Karon

admin

Admin




Posts

: 714


Join date

: 2010-01-07


Location

: Australia



Karon your funny,LOL

Not to sound stupid but what can or do you use gilded paper for?
I have also gilded strips but I use a gold stamp pad.

I use large bulldog clips to hold the strips (only 10 to 20 at a time) and lightly dab the edges until I have the desired depth of colour. If you press too hard into the pad ink will bleed a little into the outside strips but (as quillers do not throw away any bits of paper) I roll the outside strips into tight rolls and roll them across the stamp pad to colour the whole tight coil. I then have gold pegs to use in jewellery or as the centre of a flower.

When you use gold it is called gilding but you can use other colours and metallics are available in lots of colours.
Paula,

Quilling is believed to have come from religious communities in Europe in about the 1700s. The richer communities could afford to use fine gold thread to do decorative gold filligree work in their churches. In the poorer communities they tore small strips of paper from the edge of a page of a book which had been gilded, rolled them around a quill to make scrolls and glued them down, gilded side up, so that at a distance it looked like fine gold thread. White gilded strips are really suited to wedding invitations or cards.
so it gives the item a antique and or richy look cool.Thanks Paula


---
Permissions in this forum:
You
cannot
reply to topics in this forum