It's always so difficult to think of ideas for quilled cards for men - and it's made even more challenging by the fact that they are usually purchased by women! But I think that this is one area where quilling combined with photography really comes into its own.

I've posted a few examples of cards I've made recently to the gallery. Basically, I decided a while ago that it's best to let a photograph set the scene for a card design, and then all you have to do is quill a little motif that adds some detail. For example, I sometimes use a photo of our village cricket green with a little quilled bat and ball added on. Or a picture of a golf course with quilled tee/ball or flag. I'm hoping to take a photo soon of someone fishing, and then I would add a little quilled fish. This idea can be adapted for most sports. And, of course, beer is always popular with most men, so sometimes I quill a glass of ale topped off with a few white strip curls to make the foam!

I'll be interested to see other members' ideas!
Hi Philippa
And Welcome - I'm a newbie too!
I like your cards for the men great ideas - I especially like the beer one - always a winner!
I have added a golf course that I make - I have a couple more but need to find the disc they are on first - great filing system I have here! LOL
The fishing one sounds great too - I look forward to watching for it.....
Thanks for Sharing
Take Care and Happy Quilling
Cheers
Donna

quillable




Posts

: 16


Join date

: 2010-07-23


Location

: Albury NSW Australia



Thank you, Donna! I think your golf course card is great, and I also really love the heart you have posted in the July challenge.
The quilling section for men is a great idea. I love the cards in there.

Heather




Posts

: 327


Join date

: 2010-07-17


Location

: Canada



I've just posted another 'card for men' design in the gallery ...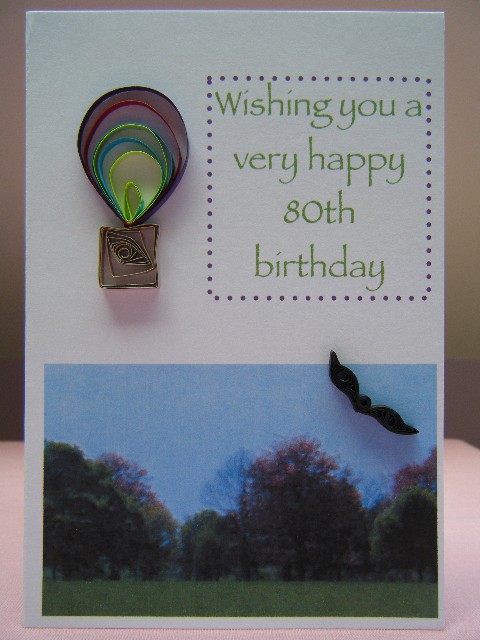 The card features a landscape picture with a quilled hot air balloon above it, a design which is not at all 'girly' and quite suitable for an older man who may not be into sports etc.
The balloon is created by making up a single long strip of different colour 'oddments' joined together, which is then folded and wound sequentially around a straight line of pins, gluing at the base each time. Then you just attach a little basket made from a loose coil which has been squished into a square.
I usually add a little flying bird to the picture as well, made from two marquises and a tight coil.
I've found this design to be quite popular.
Love this forum, by the way! (Although I'm probably now spending too much time online and not enough quilling LOL!!) I'm preparing a detailed post about resin casting for paperweights, and hope to put it up soon.
Best wishes to you all
Philippa
There was a lovely verse I read on Lily Stubbs website that I thought I would put here as it is about husbands and would make a nice verse for a lady getting married. I think you can change it to wife for a male card too.

How to preserve a Husband
First, use care in selection. Get one that is not to young but tender and healthy.
If you choose one recklessly, it may not keep. Do not put in hot water as this makes them sour.
Sweeten with smiles, and spice with patience. All varieties will respond.
To insure and wonderful consistency, stir gently over a low flame and do not
leave unattended for too long. To add a delicious flavour, sprinkle generously
with praise and appreciation. The poorest specimen may be improved if you
follow these instructions and will keep for an unlimited number of years in
any climate.
Author unknown

Hope you this helps
Karon

admin

Admin




Posts

: 714


Join date

: 2010-01-07


Location

: Australia



Thats a great one for a card, thanks for sharing
Paula



Similar topics
---
Permissions in this forum:
You
cannot
reply to topics in this forum