As one site puts it...
The 3 Elements of any market or event are:
the Stallholders
the Markets and
the Shoppers
For a successful day all 3 have to be there as two out of three just doesn't work.
Do you like going to markets? I do. There is so much variety and you can get some fabulous bargains or something unique but... have you ever had a stall yourself? What do you need to know?
So your finished artwork is mounting up and you could really do with some extra dollars to pay for those new supplies you were drooling over the other day. What to do? A member of ours is an avid market stall holder in South Australia. Fay from Australia was giving us some really interesting tips on her 10 years experience from participating as a stall holder so if you are considering this avenue, here is some interesting info for you.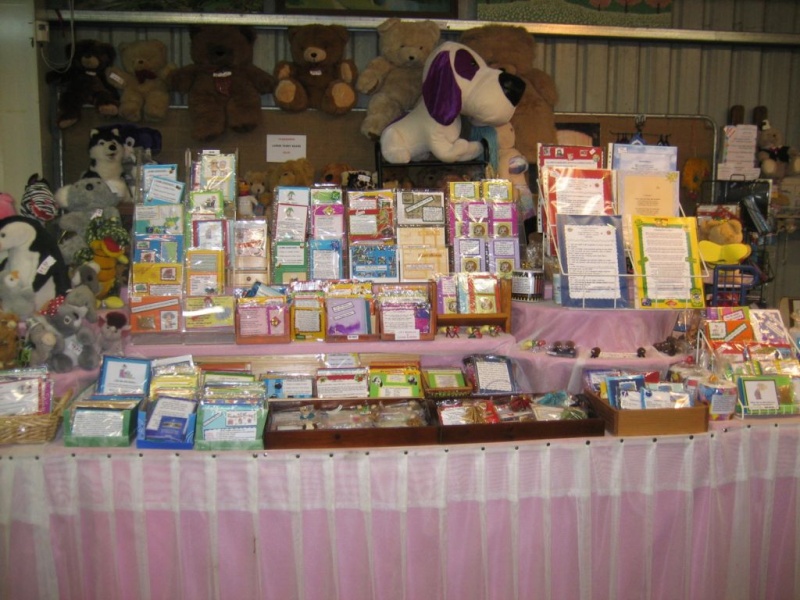 She holds her weekly stall at a Rotary market & shares her profits with 3 charities. This is the card & gag gift section of it in the photo shown. She also have section with teddy bears with verses for friends, mum, granddaughter etc and sells jewellery that her daughter makes, giving herself a well rounded out stall. Faye says "I enjoy the social side of it, the once a week contact with the public".
There are many different types of markets to choose from. Some are similar to a trash and treasure finding old wares and bargains, others are strictly craft or a variety. You can also participate in
online markets
With the early mornings Fay mentions the cold and even though the market she attends in Mount Gambia South Australia is under cover, she dresses well for the weather, some weeks in winter only just covering rent fees.
I know how I feel with the cold and those days getting out of bed as a shopper can be a real battle that is often left for another day. Though Fay did say that she has regular customers that do make it worth while. Her product range changes with time. Many of the cheap stores have affected the craft business of selling at markets and prices along with different trends that come and go so she finds that what sold well now may not next season.
Some other things to consider is that it is not just a case of pitching your wares on a table and selling away. Besides have a good set up with Marquee and table, many markets today require that you have liability insurance which is a cost to factor into the equation when deciding to do a stall. In addition to this is stall holder fees and market rules and prohibitions that must be considered.
Although Faye has not directly had theft problems where she is, many stall holders I have spoken to have stories of brazen individuals who will remove stock in the blink of an eye even whilst you are unpacking your goods. A watchful eye is required in these places where thieves look around for new targets. Insuring your products are always where you can see them or even having a second person around is added security. To finish off Fay has written a little verse which I have included for you. If you have any experiences of selling at markets please share
karon
~ WELCOME TO OUR MARKET ! ~
Our feet are really frozen
Our legs have turned to ice,
To say that we are polar bears,
Will probably suffice.
But wait! A customer!
With money in her hand,
And suddenly it's worth it,
As bored and cold, I stand.
When you think about it,
Where else could you find,
So many interesting people
Who chat of places left behind?
There's also the regulars,
We'd miss their friendly smile
And we hear all their news
As they linger for awhile.
Some stride in with a purpose
Never glance to left or right,
Some wander, browse and handle,
But keep their purse shut tight.
"I could make that for sure"
but you wonder if they will,
" Grandma had one of those!
Valuable! Wish I had it still!"
The Rotary always smiling,
They sure put in the hours
Whether it is a heatwave,
Frost, hailing or showers.
Hamburgers for breakfast!
But too good to resist!
And if you came mid morning
Good baking you'll have missed!
Some only come for veggies
Freshest in the town,
Or eggs that were just laid,
Or a sale marked down.
So whatever you are seeking,
Pre loved or brand new
Come to our market
And we will welcome you!
Fay White

admin

Admin




Posts

: 714


Join date

: 2010-01-07


Location

: Australia



that is a lovely poem fay wish i can have a stall but never will cause i-m shy goodluck with your stall
miriam


miriam




Posts

: 177


Join date

: 2010-06-16


Location

: Malta



Very interesting and loved the poem, thanks for sharing!
Paula

When it comes to markets I'm really very lucky. Here in England we have a wonderful organisation called Country Markets which enables producers of foods, plants and crafts in local communities to get together and sell their goods on a co-operative basis. Each producer becomes a shareholder for a nominal payment of just five pence (our smallest coin!!), and in return we can all bring our goods to a weekly market on a 'sale-or-return' basis. There are no table fees to pay, just a small commission on the sales that we make, and we all benefit from public liability insurance cover that is arranged for us by the co-operative.

As shareholders, we are all expected to help out with the running of the market, which means that those of us in the craft department occasionally find ourselves selling cakes, vegetables, eggs or honey instead of our own produce - but that's all part of the fun! We all try to help each other out.

I've been attending our local market on a weekly basis for nearly three years now, and find its a great outlet for my quilled cards, jewellery etc. Sometimes I sell a lot, sometimes hardly anything, but I guess that's the same with any market anywhere in the world - and receiving appreciative comments from regular customers makes it all worthwhile.

Since I started selling my cards at the market, I've learned three very specific things which I would like to share with the group:

Firstly, it's vital to listen to what customers are asking for. The things they want to buy are not necessarily always the things we most want to make - I learned this particular lesson the hard way!!

Secondly, you need to offer a wide range of cards for many different occasions: birthdays, anniversaries, good luck, get well, engagement, weddings, babies, new home, sympathy etc - PLUS a good selection of beautifully-designed cards with no wording which are "blank for your own message". When you've only got blank cards at the market, people ask for the special occasions - and when you've only got special occasion cards, they want blank ones - you just can't win!! But I have found that people often like to buy a stock of good blank cards that they can use at short notice for any occasion that may arise in their lives. I've got one particular customer who always buys six or more blank cards at a time, which is great.

Last but not least, cards made on plain white cardstock always seem to sell better than those on coloured or even cream backgrounds - I've no idea why! A lady I know who's been around markets for years told me this, and I was very sceptical at first. But I've found it to be true!

Anyway, I hope that these ideas may be helpful, and I really look forward to reading about other members' market experiences!
What great write up on the markets --
I retired from markets this year after nearly 10 years of doing them - much to the dismay of many loyal customers. I developed anxiety disorder and had to give up my social outing each fortnight at the market because of it - BUT the upside is thank God for quilling as it has given me a fabulous hobby and distraction, I can get lost in my projects for hours! LOL So I am mainly a home Hermit now.......
But back to the markets - it is true you always get the one customer who will look through what you have and pick the one thing you don't and ask for it - can guarantee it happens at every market you go to - that one person is sure to attend! LOL I use to try to cater for all occasions - with mens cards being the hardest to cater for - I don't have any pics but I use to sell alot of mens cards with real stamps on them multi layered onto cardstock - have you seen how many themes there are in stamps - firetrucks (always popular) horses, cars, bikes and fish - there are soooo many - and a simple quilled border around the layers or leave them plain and they are a real seller - I use to but stamps off ebay cheap and use them.....a really popular thing to do.
The white cards selling better is true too - and I use to also find Kraft cardstock a winner with people who like recycling. The biggest win I had was believe it or not - nothing to do with the cards - I use to display a sign that stated I used only biodegradeble plastic bags - Would you believe the amount of people who would spend with you because of this ---- this is true ---- and the most humorous thing about this was all the cards were displayed in plastic bags that didn;t break down at all! Go Figure that one --- I never could! LOL
But besides being a great place to show a nd sell your items it is a great way to be able to meet people and enjoys a great social outing - have a laugh and make some great friends too with the other stallees....
I miss it but now sell on ebay instead - not quite the same as the market atmosphere but keeping me sane and out of mischief.........mostly!!!!
Oh and I absolutely love the market poem - that is so great! Really enjoyed it.......
Well I'm off to Quill
Happy Quilling Everyone
Cheers
Donna

quillable




Posts

: 16


Join date

: 2010-07-23


Location

: Albury NSW Australia



I have not done markets for at least 15 years, but nice to hear of people's recent experiences.
I just do not want to be tied down on a weekend. Having said that, I am considering just doing a market or 2 before Christmas if I can get enough stock together.

That's a great idea about the stamp designs, Donna! It's so interesting to read about your experiences echoing my own!!
Philippa

Donna if you ever get a pic of that stamping idea you must show us, I am intrigued!
It is wonderful to hear of all the things people do for the markets. There is so much to offer as an outlet and the pleasure when someone loves what you have created enough to buy it is a real lift and being short I could do with any extra height I can get lol
Has anyone made any hair clips? that new member with her blog and those incredible hair clips were just amazing. My 2 younger daughters have hair the full length of their back and I would love to try something new. I might have a wander through spotlight in the next day or 2 and have a look at some clips plus jewellery pieces. By that I mean, some pieces similar to what Ann martin has on her blog page. Just looking for some different things to do
has anyone tried selling some jewellery at the markets? and how do frames go? I had this thought about some funny poems in frames that are quilled around. I also have made a couple of acrostic poems for a few people which they have loved but that would be more like a special order type of thing.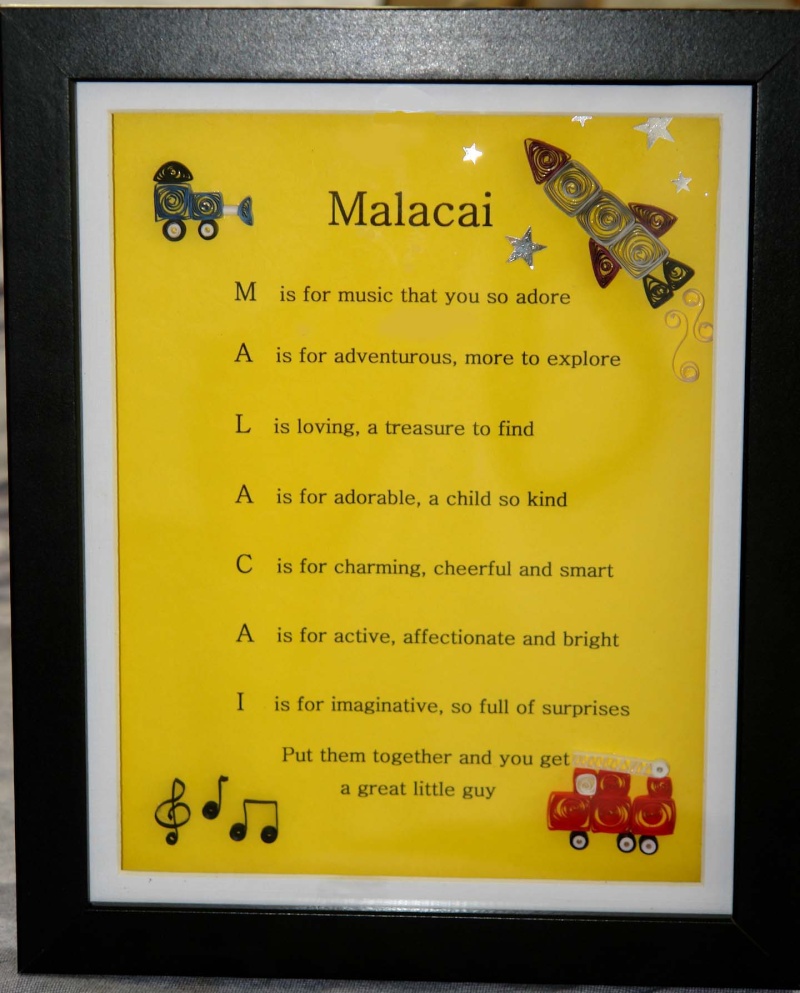 They are pretty unique though, great gift idea
Karon

admin

Admin




Posts

: 714


Join date

: 2010-01-07


Location

: Australia



I saw some metal hair clips on ebay for a really reasonable price. Unfortunately my hair is only about an inch long.

In Ontario, Canada we don't have the type of market you are describing. We have flea markets were usually cheap made in China or garage sale junk is sold. Our fruit and veggie markets don't carry other things. We do have art and craft shows. Years ago, our family used to do these with a variety of different crafts and did quite well at most of them. Now the bigger ones carry high end very professional art and craft work and the table space is very expensive. Your work has to be juried to get in. Even the little church shows want about $50. for a small table. I haven't heard of anyone doing really well at church sales in quite awhile. The last few that I shopped at most of the vendors had really long sad faces at the end of the day. Dollar stores around here are really plentiful and the economy isn't very good in my city. It is hard for a craft person to compete with dollar stores.

I haven't tried selling my cards lately but there are sites like kijiji where you can sell them free. Etsy is another site to investigate. I'm not sure I want people coming to my house though. I've heard that a lot of people say they are coming and never show up.

I really just make my cards for fun and since I am retired, I do have a lot of time on my hands. I've given them to churches to send to shut-ins, given them to nursing homes and lately to an animal rescue organization where they have been successful in selling my cards and making money to care for their animals.

Heather




Posts

: 327


Join date

: 2010-07-17


Location

: Canada




---
Permissions in this forum:
You
cannot
reply to topics in this forum