There's been quite a lot of interest in my resin-cast paperweights containing quilling, so I'm going to try and tell you as much as I can about the technique of making them here.
Firstly, there's a gallery of photos showing some of the paperweights I have made on my Flickr page, which you can access at:
http://www.flickr.com/photos/philippa_reid/sets/72157623255693844/with/4342650457/
To do resin casting, you need the following materials:
A kitchen measuring jug
Clear acrylic resin
Catalyst (this is the chemical which is added to make the resin set)
Glass dropper bottle for dispensing the catalyst
Mixing cups and wooden mixing sticks
A flexible plastic mould in the shape of your choice
Acetone to clean up any spills (plus a few old fabric rags to apply it with - don't use paper towels, they stick!!)
Pair of tweezers to pick up quilled motifs and dip them in the resin
A sharp pin to pierce air bubbles with.
You also need the following safety equipment:
Protective apron
Face mask (so that you don't breathe in the chemical fumes)
Rubber gloves to protect your hands
Plastic sheet to protect your work area
Metal box (e.g. an old biscuit tin with tightly fitting lid) to store any rags that have been used to clean up or have accidentally come into contact with catalysed resin, as there is a very slight fire risk when these are left exposed to air during the drying process.)
For safety reasons, it's also best to work in a well-ventilated room.
I bought my resin, catalyst, mixing cups/sticks and acetone from the following supplier in the UK:
http://www.ecfibreglasssupplies.co.uk/category/product/tabid/61/productid/1592/sename/water-clear-casting-resin-inc-catalyst/default.aspx
However, you can also order from an American company called Environmental Technology Inc,at:
http://www.eti-usa.com/consum/castresn/castresn.htm
Here's how you do it:
1) Make a quilled motif that will fit easily into your chosen mould.
2) Next you have to work out how much resin and catalyst to use. Because the moulds are made in the US, their capacity is measured in fluid ounces, but the mixing cups tend to be marked in metric millilitres (ml) so you have to do a little maths!
Look at the packaging that came with your mould and note its capacity in fluid ounces. Then fill the mould with water, pour the water into a measuring jug and note the volume of the water in ml.
You will be pouring catalysed resin into the mould in two separate layers. For the first layer, you need to add 5 drops of catalyst per fluid ounce of resin. For the second layer, you need to add 4 drops of catalyst per fluid ounce of resin. This sounds complicated, but it's not really. Here's an example:
Say your mould has a total capacity of 4 fluid ounces, which equates to 106ml. The first layer of resin is going to be half this volume, i.e. 53ml (2 fluid ounces), so you are going to need to add 10 drops of catalyst to the resin for this layer. The second layer of resin is also going to be 53ml (2 fluid ounces), but this time you only need to add 8 drops of catalyst. OK, write all these figures down for reference!
Now comes the fun part.
3) Again using this example of a 4 fluid ounce mould, pour 53ml of resin into a mixing cup, and add 10 drops of catalyst using the dropper bottle. Stir vigorously with a mixing stick for about one minute. You will see lots of bubbles form - the is the catalysation process beginning! Pour the bubbling resin carefully into the bottom of your mould.
4) Leave it for 20 - 30 minutes. You will notice that lots of bubbles form and rise to the surface before bursting. Any that don't seem to want to burst, you can pierce gently with a pin.
5) Wait until the resin starts to gel. You will know when this stage is reached - there are hardly any bubbles and the surface becomes semi-solid. This is obvious when you touch it gently with your pin.
6) Now it's time to put the quilling in. Pick the motif up with tweezers and dip it in a little uncatalysed resin, making sure it is well coated all over. Then lay the motif gently down on top of the gelled resin in your mould. Remember to put the motif in UPSIDE-DOWN as the layer at the base of your mould is eventually going to be the top of your paperweight.
7) Now mix up the second layer of resin (53ml with 8 drops of catalyst), mix like before and pour it gently over the motif.

Again, while the resin is still liquid you can easily pierce any obvious air bubbles with your pin.
If the motif floats to the surface (which it shouldn't if you've dipped it in sufficient resin), you can push it down gently with the tweezers before the second layer starts to gel.
9) That's it! Now, LEAVE IT ALONE for 2 - 3 hours until the second layer has gelled. Don't be tempted to touch the surface with your finger, because it will leave a mark. After 2 - 3 hours, slip the mould inside a small plastic bag to exclude air (but don't let the side of the bag touch the surface of the resin). Then leave it untouched for about a week while it hardens off.
10) After this time, you can flex the mould with your fingers and your finished paperweight should pop out easily.
If the edges are a little rough due to unburst air bubbles which have gathered at the sides, you can sand them down gently with wet and dry abrasive paper, starting with 800 micron gauge and then progressively finer. Use the abrasive paper wet. Once you have a nice smooth surface on your paperweight, you can shine it up with a metal polish such as jewellers' rouge. (The wet and dry paper is very effective - you can get rid of even quite deep scratches and blemishes if you rub it down hard enough - be bold!)
That's it! A bit of a learning curve, but fun to do once you get into it! I'll be interested to see how other members get on.
[url][/url]
This is exceptional Philippa. Thanks so much for this I am going to have a go at it
Karon

_________________
Life is not measured by the breaths we take but by the moments that take our breath away. George Carlin

admin

Admin




Posts

: 714


Join date

: 2010-01-07


Location

: Australia



Thank you Philippa, I am going to have to give this a try. Your instructions are great!

Heather




Posts

: 327


Join date

: 2010-07-17


Location

: Canada



For those of you in Australia, if you would like supplies locally due to high international postage costs I googled and came up with local companies.
Dalchem website link
AMC supplies link
you may also be able to find others I just noticed these said they had the moulds
Philippa, have you made any brooches? I just wondered as these would look divine with a resin cast over the top
Karon

_________________
Life is not measured by the breaths we take but by the moments that take our breath away. George Carlin

admin

Admin




Posts

: 714


Join date

: 2010-01-07


Location

: Australia



Thanks, Heather and Karon!

I haven't done any brooches using resin, Karon, but it's a good idea and definitely worth thinking about. You would need quite a small mould to make them - I believe it's possible to use things like the insert tray shapes from boxes of chocolates as moulds: for instance, if you had a selection with heart-shaped chocolates in, you could use the tray shape to mould a heart-shaped brooch. The mould just has to be made of a flexible material so that you can remove the resin casting once it's set.

I have made some quilled brooches mounted on cardboard backgrounds, however, and have posted a photo in the gallery alongside another picture of some quilled hair slides.

On the subject of jewellery, Karon, I'm not sure whether you've seen the post I wrote for the 'Hints and Tips' section a while ago, which you had asked me to do? This was mainly about tips for making quilled earrings, which I find are the most popular form of quilled jewellery at the markets I attend - not many people seem to be looking for brooches right now, but I hope maybe they'll come back into fashion soon.
HI Philippa,
Yes I saw them they are gorgeous. I am making a few changes to my work situation shortly as my quilling time has been sparse for a few months now and trying some jewellery is the first things on my agenda so these tips have been excellent and I have a folder on my pc I keep it all in ready to go, many thanks.
What I was thinking about with the resin casting something like a pendant then I saw a close up on the link you put to the USA site there is a book on it and wondered if you have had a go, it was called easy casting jewellery. What a nifty idea with the chocolate trays.
I found some interesting things tonight while hunting around. The book called Easy cast resin jewelery by marie browning can purchased by a USA company for $6.99 at
Resin Obsession
and they have some great moulds too and an economical beginners jewellery resin kit that looked like a good starting point, does this look like something one could start with? I also noticed on you tube some tutorials. This ones seems interesting. It is only one of several other tutorials he has made discussing type of moulds you can use. The ready made jewellery ones that you put the tape on look wonderful and remind me of a lovely quilled pendant I saw on Ann Martins blog "all things Paper". It was so elegant and I would love to try this
I like the fact that the work is sealed and preserved permanently and your paperweight is just awesome, I can't wait to get into it so I am doing my research and getting my supplies together
Karon

_________________
Life is not measured by the breaths we take but by the moments that take our breath away. George Carlin

admin

Admin




Posts

: 714


Join date

: 2010-01-07


Location

: Australia



That's a great video Karon, thanks for sharing it and also thanks for your kind words about my paperweights
I haven't got the book that you mention, but it sounds very good. I think with a craft like this you just have to get your creative juices flowing and start experimenting - that's what I did!
In the video, various types of moulds are featured - the first one featured is similar to the chocolate box inserts that I mentioned. I think that with these it's a good idea to coat them with spray-on cooking oil before filling them with the resin. Apparently this makes releasing the castings easier once they have set.
I've actually experimented with making my own moulds using plasticine. Here's a picture of a pendant I made after creating a plasticine mould using the imprint of a sea shell. The hole for the pendant cord was made by sticking a drinking straw into the plasticine and pouring the resin around it! For this pendant I mixed gold glitter into the resin. (No quilling on this occasion, but it's another example of what you can do with this craft.)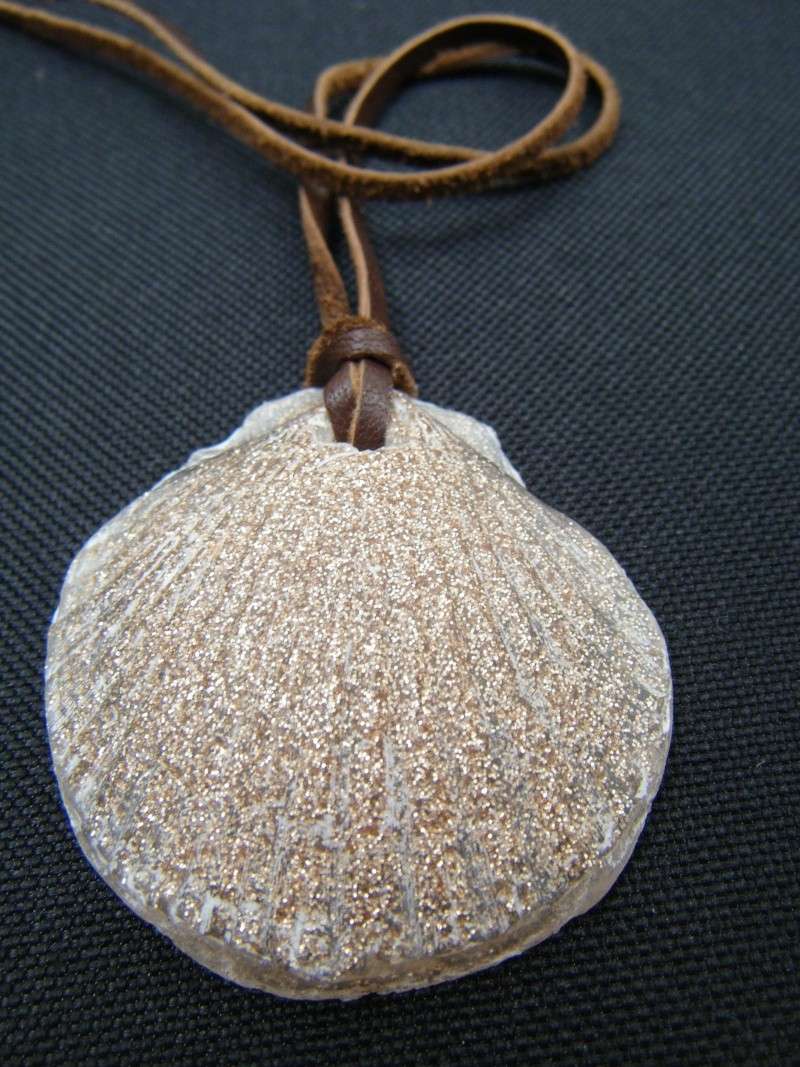 OOoh Philippa, this is gorgeous!! I love it. That is so natural and looks as though it has sand all over the outside. I wondered looking through the information if there was something to make it easier to pop the pieces out more easily so I will be sure to do that trick with the cooking spray. I like your idea with the straw better than the tutorials drilling the piece for the hole. I have been so surprised after looking how many options there is in resin casting with the colouring of the resin, types of moulds and ways of doing it, all with such a variety of outcomes. Many thanks for sharing your precious time with all this info. Looking forward to getting started. I was telling my sister about it a few days ago and she said she wanted to have a trial run too. This is so exciting!! Will let you know how I go

Karon

_________________
Life is not measured by the breaths we take but by the moments that take our breath away. George Carlin

admin

Admin




Posts

: 714


Join date

: 2010-01-07


Location

: Australia





Similar topics
---
Permissions in this forum:
You
cannot
reply to topics in this forum