I put a card with a basket of flowers into the gallery to show you what you can do with the Cuttlebug dies and a thin white glossy paper. The strips of paper are a little wider than the 1/8 inch strips that I am used to using. I didn't use all of the flowers that these dies make because they end up being a pretty big and thick flower. Next time I may try cutting a bit of the bases off the bottoms because there is no need for the petal shapes to have such a thick base.



Heather




Posts

: 327


Join date

: 2010-07-17


Location

: Canada



Just checked it out great job, left comment .
Paula

Wow Heather that is fabulous. Did you find using the dies it cut your time down making flowers? Do you like using them and are they a great addition to your tools? what are the pro's and con's
I love your black and white theme together. White always looks nice on black and that just looks fabulous!! it really stands out.
Karon

admin

Admin




Posts

: 714


Join date

: 2010-01-07


Location

: Australia



Karon, the dies with the fringing are really quick and easy. I have fought my fringing machine for years and switched to hand cutting. I find hand cutting the strips really relaxing when watching TV. These dies make larger flowers than I usually make but they are great for larger projects or if you are teaching quilling to children. I find the quilling tool that comes with these dies easy to hold but it does make that curl in the center. I'm glad I purchased these as I will get my money's worth out of them but they are just an addition to my tools. I will use my other tools much more, the fine needle slotted tool especially.

I'm still playing around with these dies....trying different papers etc.

Heather




Posts

: 327


Join date

: 2010-07-17


Location

: Canada



Hi Heather
I know what you mean. My first fringer was plastic and metal and the most disappointing and awful purchase I ever made. The one I sell is good but just does basic fringing with only a little adjustment then Jo put me onto a fringer she has been using for years. It is by Johnathan Mayne in Melbourne. It retails at $130 but the difference is that it fringers up to 2cm widths, has very responsive adjustments in width and depth.
Because he designed it, you find it has very few problems jamming and is the best available in the world. Jo fringers so much it is not funny. She sell the flowers to scrapbookers as well as her cards and craft. I am so glad to hear about the dies. I really wanted to know from someone who had tried them. From what I gather the only draw back is that you can't adjust size or width in the flowers but I so love your card
Karon

admin

Admin




Posts

: 714


Join date

: 2010-01-07


Location

: Australia



Got some follow up on the dies and how they work
Take plate A
Place plate B on top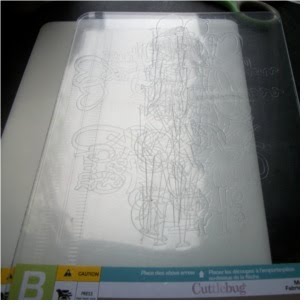 Then put your paper/cardstock and die in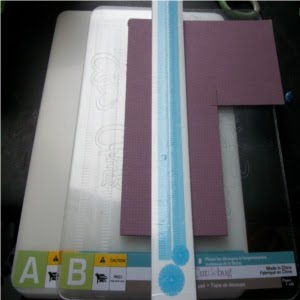 Place plate C on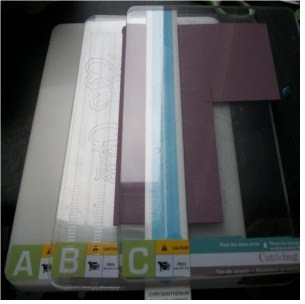 See the inch of space at the top of the plates? pull the paper and die down a little to get the plates in the machine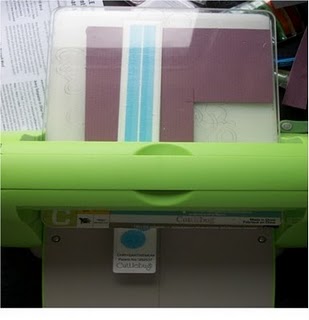 Finished product ready to assemble
Best price I could find was
ebay USA link
currently equating to $35 Australian dollars (as at 7/8/10) including postage. Currently 3 flower kits available being carnation/rose, Daisy and Chrysanthemum. Kits include 1 quilling tool, 4 cutting dies, 10 floral wires

admin

Admin




Posts

: 714


Join date

: 2010-01-07


Location

: Australia



The one drawback is that the strips don't have quite as nice an edge as store bought ones but the edges are much superior to the three paper shredder's edges that I have. When I taught basic quilling at the scrapbooking store, I used to shred paper to use to teach and showed the students the difference.
The small Cuttlebug pads as you can see aren't quite large enough. I have ordered the longer pads from a store but they won't be in for a couple of weeks. In the meantime, I am using my Sizzix Sidekick machine with the longer cutting pads. Unfortunately you have to add about 5 layers of shim in order for them to cut properly. I would dearly love to get the new Sizzix-Tim Holtz electric Vagabond machine for cutting dies. It is coming out in the fall but it is going to be about $250. I probably will do a lot of hinting for that for Christmas.

Your fringer looks like it might be a good idea too. Do you know if the fellow that makes them will send them to Canada? I'll have to decide which machine i would use more since I do have alternatives to each of them. I do have to admit, I spoil myself with tools but I do use my tools a lot.


Heather




Posts

: 327


Join date

: 2010-07-17


Location

: Canada



Hi Heather,
I know what you mean. Jean put me onto using printers off cuts for my classes. She just use to go to the printers and collect up what they cut off in all sorts of papers. I was quite amazed at what she had in her loft. I could just about fill my office to the brim with her boxes of off cuts. They come in all sorts of widths and paper styles, especially good for colouring yourself either guiding or with your ink pad. Always an option to do that as they only throw it away and if you tell them what you are using it for they are usually more than happy to get rid of it as they throw it away normally anyways. The point being is that the edges are properly cut just like shop bought strips.

With the fringer I have arranged to sell the fringers for him on my site. I didn't want to stock them before as the manufacture process didn't allow much room for wholesale margin (retailer just don't get a profit) but as they are so good, I am just happy to help people out so I can now drop ship in Australia from my site (I send him the order and he ships for me directly to make it faster) but if he won't send directly to you which I can't see a problem, I will. I don't usually promote or flog my products from here guys to sorry if it sounds that way. I like a forum to be free of that, a place where people can just talk about what they want so I keep my website separate. I just mentioned it as most people are in the same boat with fringers. There is really only 3 styles around. The cheapest is the plastic/metal one that lasts all of 5 mins for most people leaving the disgruntled, the next is the standard all metal ones that I have and usually sell for between $50-$70USD available in Aust & US have a small amount of adjustment and do basic fringing though can last you up to 20 years I have heard, having been fringing that long so I can verify. These are okay for straight basic fringing. Then there is the Johnathan Mayne fringer which has a huge amount of adjustment and reliability. The base is quite heavy and he completely designed it himself. He has used a higher grade steel. It is hard for kids or the like (hubby's) to come along and change your settings without the allen key which is a bonus. The only thing I would suggest is when you start out, just adjust bit by bit until you have it right. It is very responsive. He also is so confident he offers a money back guarantee. Think the only thing is you will need is registered post because of the value, it weighs around 350gms on it's own so the overseas postage to Canada is around $20AUD to ship via reg Aussie post for parcels up to 500gms.
Jo puts hers through a few strips at a time from memory. I will have to ask her. She is busy crocheting in the warmth at the moment as the weather down where she is has been so cold so we haven't seen her much of late
Karon

admin

Admin




Posts

: 714


Join date

: 2010-01-07


Location

: Australia




---
Permissions in this forum:
You
cannot
reply to topics in this forum