Well Hello,

I am very pleased to meet you and yes, I am new to the craft of quilling. Although, I did have a little dabble at it in my early twenties. But, children, work commitments, husband, family, pets and a few friends soon saw an end to that. Any how, a decade or, maybe two have passed since then and many things have changed. Specifically, I have free time! And I am so excited about using some of this free time to practice quilling. Infact, my new Creative quilling tools and equipment arrived in the mail today in record time. Great job!

Whilst, I don't have a lot of questions right now. I do have one, and that is, do proffessional quilling tools make it easier to quill? And now, would you believe it I have a second question. Can someone please tell me, what are the benefits of proffessional quilling tools over the laymans tools. I ask these because I wouldn't want to purchase proffessional tools without good reason.

Finally, I am really looking forward to reading about your tips and tricks with this paper craft. And I have already noticed some of the beautiful art already created by the members of this forum. Simply fabulous! And I am glad to be part of this group.
I hope to see you in print real soon.

Toodles for now - Elanore



elanore




Posts

: 1


Join date

: 2010-09-17


Location

: BEAUDESERT



Welcome to the forum.

I'm not sure what you mean by professional compared to layman's tools. Quilling with a toothpick is not as easy as quilling with a needle tool. Some start out using a needle tool right from the beginning but it takes a little bit of fiddling to get used to it. I started with the slotted tool but you will end up with a little crook in the center which might bother the expert quillers. It doesn't bother me and this tool is what I use the most mainly because it is quicker for me and I am not entering competitions where my work is judged. All of my quilling ends up on cards, scrapbook layouts or Christmas decorations. When I teach quilling, I show the needle tool and the difference but we use the slotted tool. Try the different methods to see which you like best - using your hand, the slotted or needle tool.
I improvised on the quilling board and used a shredder for my strips for a long time and still make my own strips if there is a piece of paper that I want to use. Slowly I am building up a collection of store bought strips in a variety of types and colours. There are some hints on improvising on one of the other threads.
I would say that professional tools from a quilling store make it easier to quill. The glue bottle with the tiny metal opening makes gluing a breeze over a toothpick to add the glue. If you need even coils, the board is perfect, a graph is handy if you want even snowflakes etc or if you want to try husking.
The fringer is another professional tool that you might look at in the future. It is worth saving up to get the good one that Karon talks about. I quickly found that I could do a far better job hand fringing when I bought the cheaper fringer and it sits unused. I have not bought the expensive one yet because I find hand fringing relaxing. I have a couple of pairs of short fine scissors that work perfectly for this.
Start with what you have and just begin experimenting. Remember if something doesn't work out to your satisfaction, it is just paper. Soon you will be doing beautiful work and will find that quilling will be a relaxing hobby. Most of us love to quill when watching TV.
Please share your work with us. There are a lot of beginners on this site that would love to see easy projects to get ideas. I am in awe at some of the work in the gallery. Way beyond my capabilities!

Heather




Posts

: 327


Join date

: 2010-07-17


Location

: Canada



Hi Elanore!!
Great to see you here, I hope you really enjoy yourself as the support here is just exceptional. Sometimes I like to sit here and quill reading the posts as I feel I am with everyone that way. Sad but true, it is just so nice to be around others with the same passion.
There are so many tools on the market these days it can be quite daunting to decide on just which one. I, like Heather, show the differences when I teach between the tools but my students use a slotted tool too as it is the easiest to learn with. The one I have has a smaller slotted tip for a smaller centre and the all metal construction makes it tough and long lasting.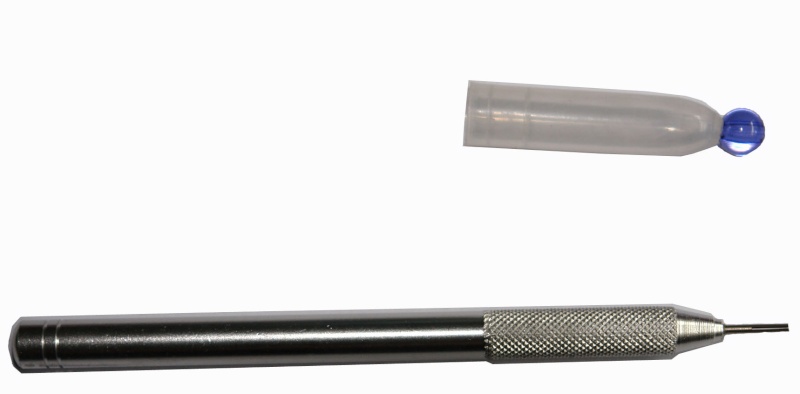 It has been so hardy I even slammed it in a window frame after my kids got a hold of it so I straightened it out and am still using it today with a slight bend lol. Sometimes I use a needle eye tool like this one.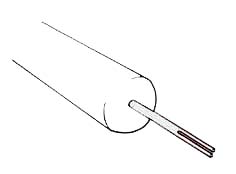 As Heather mentioned, it gives a nice small centre. Many people make these from a chipped off darning needle and some dowel. The only issue I have found is that with a little use they turn in the timber while you are working so they need replacing often however I have heard there are ones on the market that don't have the needle tip shape that is pushed into the dowel but a T shape so it won't turn but I am yet to find one so if anyone has one and knows where they can be bought please let me know.
There is also the needle tool which is exactly as it's name sounds, and gives the finest small centre.It is based on the original technique from hundreds of years ago with a feather quill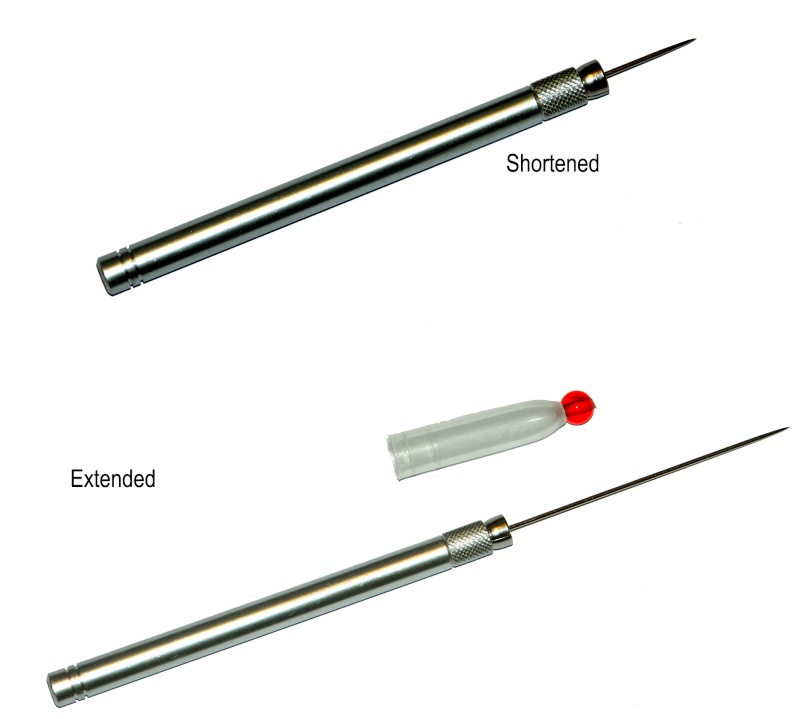 There is a specific technique to using this tool and many recommend to just dampen the tip of the paper to start you off to help but here is a video tutorial by Claire Sunok Choi.
That being said there is also a plastic tool that you may find in some kits, these leave a very large centre and aren't the best to use as the paper can slip and the end results aren't as desired as what you can achieve with other tools.This can be disappointing to work hard and not achieve the best results. Then there is wooden handles, metal , plastic and as Heather mentioned you can even use a toothpick and last but not least there is just the no-tool finger roll. You can really have some fun trying all of these but at the end of the day you will find what best suits you! Tools are exactly that, just an aid to the user.
Fringing, well, I use the large fringer from Jonathan Mayne as it can be adjusted down to a small fine cut but hand cutting is good too, if you are doing a lot of strips you can stack a few on top of one another and do them all at once to save time. Just hold firmly
My glue bottle is my second best friend to my quilling tool. I found I had wastage with a toothpick and lid and it dries quickly but not so any more. After waiting several month manufacturing a tailored bottle with a polished bore fine tip it finally came and I have not looked back. I leave my glue in the bottle for weeks on end without even the slightest hint of drying out. For classes I take both the bottle and the toothpicks so they can try both but they usually prefer the bottle as it has more control and I have less clean up, mess and wastage. This bottle comes completely dismantles in several pieces and easily puts together and pulls apart. You can leave the pin in the tip for months if you like though if you are going away you can remove the tip and cap, separate them and clean them (the tip has it's own case to protect it) and replace them with the proper bottle cap that comes with it and put your glue in the fridge. To wash you separate and put the tip and cap into a bowl of warm soapy water to clean. The pin helps to keep the tip clear of PVA glue as well as acting as a plug when you are not using it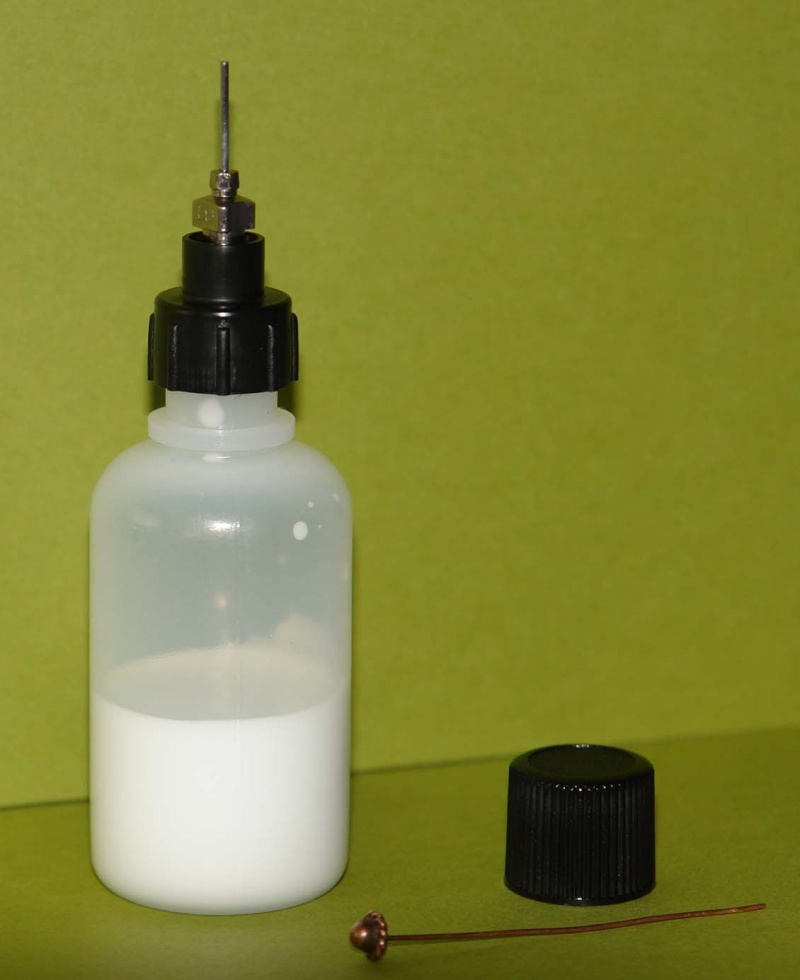 and the bottle itself is replaceable down the track being plastic where the tip will last many years. To use you just squeeze the bottle but different pressure will give different results though it is designed to only put out tiny amounts so you will always get a fine line.
Keep a damp cloth by your side for your fingers anyway, I use to wipe my fingers on my pants and now they are thoroughly decorated

No mater what tools you have just enjoy yourself. It is a therapeutic cheap craft that requires little room yet is so creative. You are only limited by your imagination
Have fun and happy quilling
Karon

_________________
Life is not measured by the breaths we take but by the moments that take our breath away. George Carlin

admin

Admin




Posts

: 714


Join date

: 2010-01-07


Location

: Australia



Elanore, welcome to the Forum,and have fun Quilling
Paula
Hi Elanore

It's very nice to 'meet' you - I'm sure you will enjoy this forum. I agree with everything Heather and Karon have said about tools, so haven't really got anything to add here. But I look forward to seeing some of your quilling in the gallery.

Best wishes
Philippa
Hi Elanore,
You have stumbled on a truly wonderful forum, the girls here are marvellous and offer lots of help and encouragement. You will find lots of information.
Welcome again,
Kindest regards,
Kaye.

kaysey60




Posts

: 15


Join date

: 2010-07-23



hi elanore welcome you 'll love it here i'm miriam and i come from malta

miriam




Posts

: 177


Join date

: 2010-06-16


Location

: Malta



Welcome to the forum
You know I don't think tools make a huge difference, sure they make life easier but it's all about practice and skill.
I've seen gorgeous quilling done by some people ( I think a few on the forum are in this class) that use NO TOOL just their fingers. The good ol toothpick as a glue applicator works gr8 too!!!
Once when I started quilling I bought a bulk lot of things off eBay and included were some fringed flowers, they were perfect! Lovely straight cuts, same depth etc. I inquired as to what fringer was used and was told it was SCISSORS and bulldog clip only!!!!
So I guess my point is tools make life easier and sometimes quicker but the same results can be achieved with patience and practice.
Now having said all that

I love my Jonathan Mayne fringer, my Creative Quilling Glue Bottle and my little metal tool that came with a quilling board I bought when I first started!!! Paper, well you'll learn that quality paper makes a difference as well, though an A4 sheet can be cut by hand and works just as well for some projects.
Guess it's like everything, you can spend a heap or a little it's all up to you.
As long as you ENJOY!!!! that's all that matters

Welcome Elanore,
Hope you enjoy getting into quilling again.
Just catching up after being away interstate for the weekend, in Canberra.
Hi Jo,
That is the first time I have heard of using a bull dog clip for fringing but I was sitting here thinking about it and you could really cut quite a few strips together couldn't you!
Did you use this method when you started? how many strips could you do at one time? It would be great for holding those strips straight that's for sure and also for a beginner not to cut all the way through the strip.
I was talking with Jonathan Mayne (inventor of the worlds best, most adjustable and most reliable fringer) and he developed a new fringer that is safe to take on a plane or use in schools as the blade is fully enclosed and protected. As soon as he brings it out I will be sure to do a write up for you all and get some pics
Karon

_________________
Life is not measured by the breaths we take but by the moments that take our breath away. George Carlin

admin

Admin




Posts

: 714


Join date

: 2010-01-07


Location

: Australia




---
Permissions in this forum:
You
cannot
reply to topics in this forum