Hi all,
The month of May sees the recommencement of "Member of the Month". This month I am happy to introduce Philippa as the May Member of the Month. Philippa has happily answered some questions for you all. Thank you so much Philippa for sharing your story...
About you and your family
I live in the south of England in a picturesque rural village in Hampshire. I am married to Tony, whose son, daughter-in-law and two lovely grandchildren live nearby. We share our home with my mother, who is now in her 90s, and this enables me to look after her.
Have you always been a crafty person?
No, not at all! It's only since I retired from my career as a writer in Marketing and PR that I have become passionate about crafting. When I first became interested in crafts I got into paper weaving - something that I still enjoy - making bags and purses from gift wrap and colourful magazine pages.
How did you get introduced to quilling?
I began quilling in 2006, and am now completely addicted to the craft! I took early retirement from my past career as a writer, because I was feeling completely 'burned-out'. For years, my creativity had been stifled by the requirement to articulate other people's messages, and I had really never had the time or opportunity to express my own ideas!
My earliest crafting inspiration came from a mail order catalogue, in which I saw a kit for making elegant paper roses using a heart-shaped punch. I sent for it, and ended up receiving a complete basic set of tools for card-making: some card blanks, mailing boxes, coloured papers, two punches, a sheet of peel-off greetings and - crucially - a needle tool. (This eventually became the main tool that I used for my quilling, although tragically it got broken very recently and I had to buy another!!) Inspired by the thought of making my own cards, I bought a book on card-making techniques which included a chapter on quilling - a craft I had never heard of before. I was SO impressed ... there were patterns for flowers, balloons, teddy bears and little ballerinas, all crying out to be made! So I bought a multi-coloured pack of quilling strips, glue pen and a beginner's slotted quilling tool - and I was away!
What did you start with and how did you learn?
My quilling was completely self-taught, using books for both instruction and inspiration. Once I had mastered the basic techniques, I quickly graduated away from the slotted tool (which leaves what I regard as an ugly 'kink' in the centre of quilled coils) in favour of the needle tool which I had acquired for my very first paper roses project. At the same time, I weaned myself away from using published quilling patterns and started letting my own imagination run riot.
Who and what has influenced your quilling?
Other quillers inspire me! That's why I love the thriving on-line craft community of which my blog,
Quilliance
, is a part. I follow many other quillers' blogs, and share ideas with them through sites such as Flickr, Facebook and of course the Creative Quilling Forum.
Photographs and nature inspire me, too. I enjoy digital photography, and am always taking pictures which can potentially be used as backgrounds to my quilling when creating greetings cards. I might use a close-up photograph of a flower, for example, and then try to echo its colour and shape in quilling. Or I might place a quilled butterfly on to the flower. I firmly believe that nature offers all the best patterns and colour combinations. That's why I never go anywhere without my camera, and am always on the look-out for the next inspiring shot.
Do you combine quilling with other crafts?
For me, quilling is not just about making cards. I use it to create jewellery (earrings, pendants, bracelets, brooches, hair slides and decorated watches), and have even made some paperweights using the technique of resin casting whereby quilled motifs are set inside a clear acrylic block within a mould. There are photographs of some of these items in the forum gallery.
What is your favourite quilling piece?
That's a really difficult one! There's so much to admire in other people's work, that I find it almost impossible to single out any one particular piece as a favourite. With regard to my own work, I have always felt very pleased with this little butterfly card, it's a bit different, it's bold and it's colourful, which I think sums up my own personal style!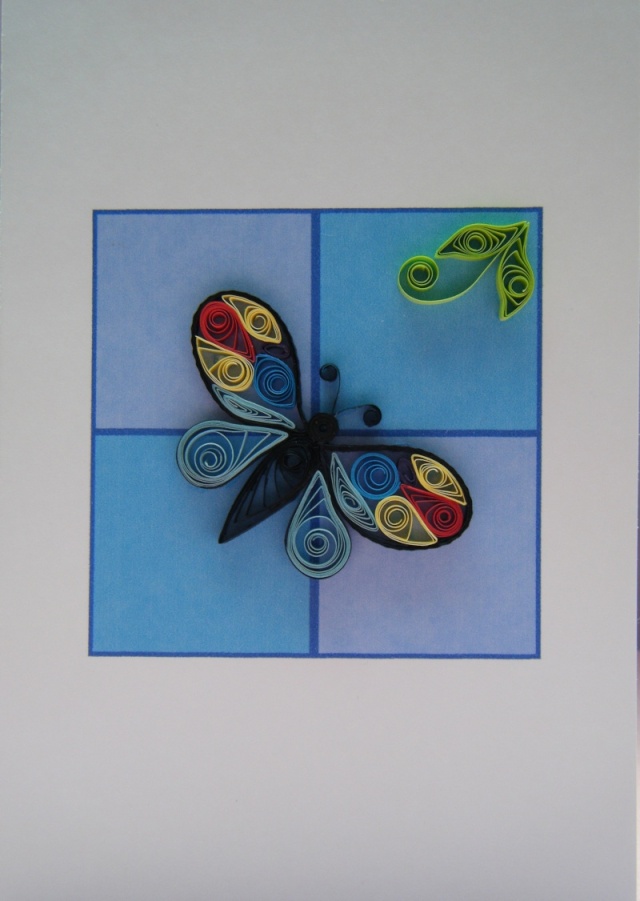 What do you want to achieve with your quilling?
In the short term, I just want to keep on doing it! To this end, I belong to the crafts section of a market co-operative in our village which gives me the opportunity to sell my cards and quilled jewellery to the public every Friday morning. I also have a card basket in a local cafe, and a regular sales table at Women's Institute meetings. I sell enough through these outlets to keep myself busy making replacements for my stock.
In recent years, I have carved a bit of a niche for myself in the on-line quilling world by using photographs and digital graphics as backgrounds for my quilling, particularly when designing cards. The ability to quill is obviously a vital element in my card-making - but so too are my camera and my Apple iMac computer whose brilliant software (Pages and Photoshop Elements) enable me to print backgrounds and manipulate graphics in every way imaginable. So my longer-term ambition is actually to be recognised as something of a pioneer in this aspect of quilling art. I've already had one article published on the subject (in the February 2011 edition of
Papers and Pixels
, an on-line crafting magazine), and I would love to be approached by other publications to write some more!
What work have you been especially proud of?
I am proud of the cards I make today, because they combine quilling with photos/digital graphics as backgrounds in a way that nobody else anywhere seems to be doing! Also, I am proud of my blog which I only started in January 2010, but which has already gained more than 100 loyal followers from right across the world! I now have a Facebook page, called
Quilliance
, too which is well on the way to achieving a similar number of 'fans'.
What else do you hope to do with quilling?
I love experimenting with new techniques, and I shall continue to push the boundaries of traditional quilling whenever I can! This year I am starting to give demonstrations of quilling for the first time, and I am looking forward to developing this aspect of my craft. I currently have some ideas under wraps for promoting quilling techniques to digital scrapbookers (can't say too much about this at the moment ...), and also have plans to offer pre-printed card blanks with personalised greetings and photos/graphics to other quillers, so that they can add their own quilling. I'm thinking this might be of interest to people who, like me, are not very good at calligraphy, and who don't really like the appearance of commercial peel-off greetings. If anyone on the forum would be interested in this, please let me know ...
Thank you so much, Lauren, for giving me this opportunity to stand in the forum spotlight!
Congratulations on Member of the Month Philippa. I always find your contributions interesting and your willingness to share techniques and ideas help to tantalize this forum with stimulating, intriguing and engaging projects.

Best wishes.
Congrats Philippa, you do so well in your art and quilling on your cards and love your jewlery. Thank you for sharing with us on your abilities and your goals, very inspiring!!!!
Paula
I really like your work Phillippa. Good luck with all of your future projects/endeavours.

Heather




Posts

: 327


Join date

: 2010-07-17


Location

: Canada



Jocelyn, Paula and Heather - thank you so much for your very kind comments! It is great to meet up with 'kindred spirits' here on the forum and also via our blogs ... I always follow your latest projects with great interest. I haven't been very active on this forum just lately (that's because I've been really busy with various projects) - but I hope to make up for my absence in the weeks ahead, spurred on by the honour of my 'Member of the month' status! Thank you again for your friendship and support.
Philippa

Very interesting Philippa.
I think your card blanks with words printed would go down well.

Thanks, Bronwyn. I was thinking that maybe people could also send photographs to me by e-mail so that I could include these in the personalised card backgrounds as well, just like I do for my own designs. Then it would simply be a case of "just add your own quilling" ...

I'm still trying to get my head around this idea, and would have to get the pricing right, but I guess I need to gauge the demand for it first.
Congratulations Philippa, your quilling is very beautiful and inspiring!

Lindyedm




Posts

: 27


Join date

: 2011-04-14





Similar topics
---
Permissions in this forum:
You
cannot
reply to topics in this forum