It was interesting seeing how many people turn their love into and little cash whether a business or just to cover their quilling addiction. I thought we could put a few suggestions together that could help anyone looking for a little something to do or ways to find homes for the excess artwork with reimbursement. Many of us make cards which is something people always buy for various reasons therefore are in demand.
Other products that are attractive are frames (that the buyer can put a pic in quilled around the timber itself). If you feel a little extra crafty and want to make your own from scratch try this link
Make your own frame
This gives you the option to offer a buyer custom sizes and adjust the prices accordingly. I have to admit I am a little lazy and prefer to put what time I have into my quilling. When I shop I look for frames in places like Sam's warehouse, crazy clark's and other $2 shops. I do suggest however, choose carefully and check thoroughly. You can pic up some very nice frames that are just as good as what you would buy in a more expensive shop. You can also offer filled frames which contain poetry or sayings. By googling free poems you can find some really nice wording. I will show you this one I made one time when I was sick, not for the quilling but for the poem as I am not that happy with it.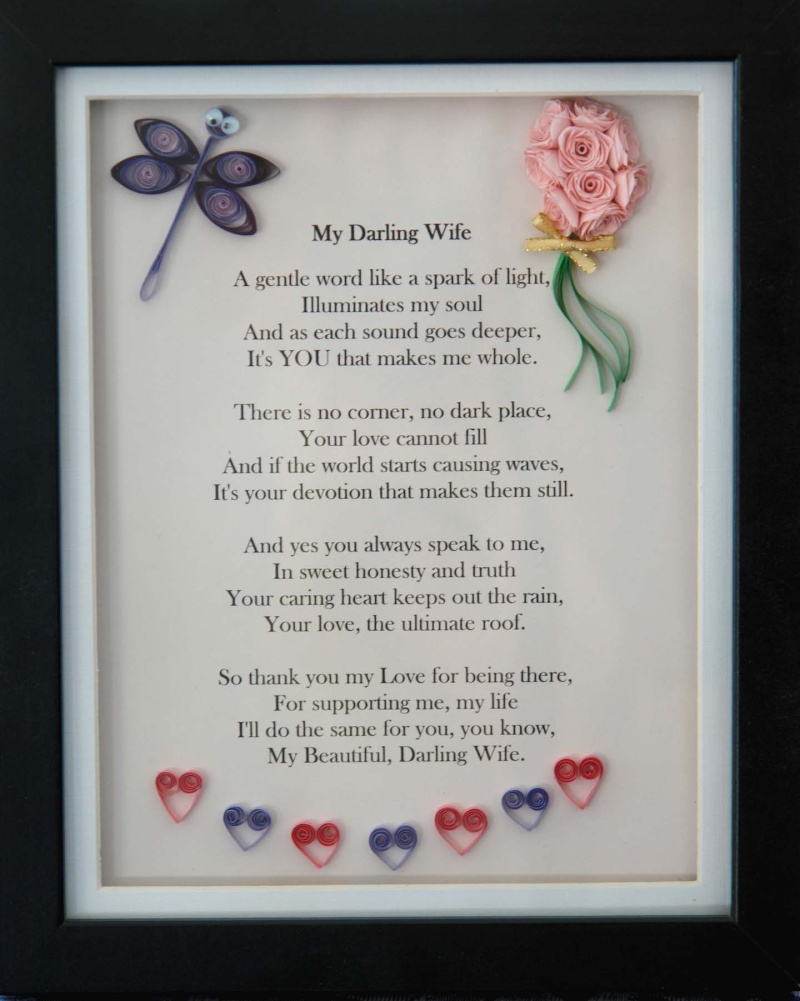 Now this frame cost me $4 and seeing the quilling is on the poem inside the frame I had to insure I chose a frame that had a little depth. I found the poem on a free poetry site, added a few simple quilled pieces, not too much to detract from the poem.
Jewelery. Take a look see at these earings
Earings link
we also have a post with a few ideas for other jewelery items ideas and links to patterns. You can finish them off with a clear varnish (lacquered) to make it more hardy.
You also have other quilled work such as little boxes, jewelery boxes, fridgemagnets, brooches, hat pins, hair pins, notebooks, pencils and pens (usually with a quilled bug or animal on the top), pencil holders, posies and the list goes on.
Now you have the products what do you do with it all.
Ideas for selling your products.
This all depends on what you have but here are some ways you might like to try.
1. school newsletter (many schools have a for sale section for a nominal $2-5 for the add)
2. Ebay
3. supermarket notice boards (it is amazing how many people look at these) use a photo if you can
4. Markets (also check for craft markets in your area). If you are not partial to this, you can find a person who does the markets and negotiate consignment with them. Or try this
http://www.marketsonline.com.au/
5. Free classifieds (many Aussie towns have those little booklets you can buy for around $2 at servo's etc and these are free to advertise in) check your area for these
6. Garage sale ( a chance for a clean out and have a quilling table at the same time)
7. Consignment shops. We have 2 shops on Bribie Island near us that do this. You take the work in for a small percentage of the sale price. I am sure you would have something near you!
8. Art galleries. Display your detailed work which not only promotes quilling as an art but as most art is these days in the gallery, you can mark it for sale. Many artistic pieces are sold this way
9. Your own website
10. Our forum (it's free with no obligation)
11. Yours or hubby's (even friends) may take them to their work place
12. If you are strategically situated, put a sandwich board on your front lawn
If you have an ideas for selling your art, why not share it here!
One last thing before I go.... Many craft shops are always seeking people to take workshops. An afternoon sharing your passion with others, what could be more fun. I have approached 1 shop so far with the intent to stock our products and was inadvertently offered $90 to do a workshop. Why not give it a go! There is obviously a need
Karon

admin

Admin




Posts

: 714


Join date

: 2010-01-07


Location

: Australia



Thanks for sharing . It's a fact money is very essential for living. Everybody should do saving to some money for future.
ATM Machines

diane21




Posts

: 3


Join date

: 2011-11-19



Thanks for the good tips, I sell my crafts when I do a Exhibition also at my hairdressers she has a small place to present my Quilling. Here in the shops they ask 25% from the selling price, and that does not leave me much profit if any. But people get to know my work and often get calls for orders like table decorations. I go to my library and put up photos on the pin board and also the coop and migros supper markets. There is another way to have a Quilling or craft party in your own home which also could bring in some extra cash. Wishing you all a great weekend
hugs
There is also some beautiful quilling made from different sellers on a site called etsy.
www.etsy.com

Heather




Posts

: 327


Join date

: 2010-07-17


Location

: Canada



lots of good ideas, thanks for sharing them!!!

---
Permissions in this forum:
You
cannot
reply to topics in this forum