I finally completed a framed piece for a gift - took me ages to do it but I am so proud on how it turned out. The frame was a clock I picked up for 2 bucks and removed the time piece and I quilled my piece on wax paper then transfered it to a piece of paper I cut out in the frame shape.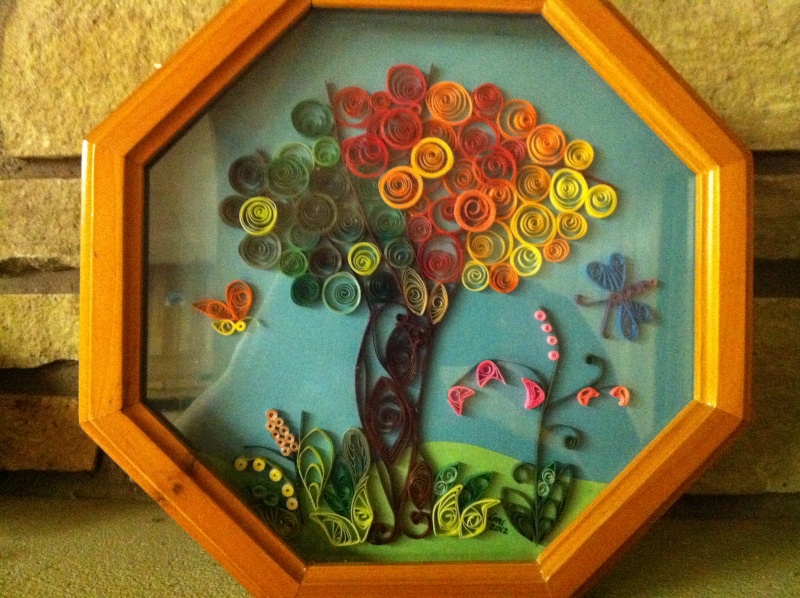 I have only been quilling for a little over a month and I sure hope quilling gets easier lol this took a lot of patience. My head is swirling with ideas on what to make next but I really want to try a peacock.
PS I have been looking all over the site for a way to put the pictures in the gallery but cant figure out how, so if someone could please give me detailed instructions I would appreciate it .. thanks in advance

Emeraldz




Posts

: 9


Join date

: 2012-01-16


Location

: Ontario, Canada



Oh my goodness...that is so pretty!! You deserve to be proud!!

KrazeeLdy




Posts

: 369


Join date

: 2011-02-18




miriam




Posts

: 177


Join date

: 2010-06-16


Location

: Malta



Absolutely beautifully quilled, somebody will be very proud to receive this tree of life.
FAB_U_LOUSE
About uploading in the gallery
Firstly go into gallery, choose the group (quilling frames) then on your left hand side you will see (upload) hit that and upload your photo, and follow then the instructions
So bright and cheerful. Your picture makes me smile and I'm sure the recipient of your gift will be very happy.

Heather




Posts

: 327


Join date

: 2010-07-17


Location

: Canada



You did an awesome job, clock frames do work well, I've used a few myself, love to see more of your work!!!!
Thank you ladies for your wonderful responses. It is just the encouragement I need. I dont have many projects done yet because I am just learning.
My best friend loved the quilled tree (at least she said she did lol) It was her 50th birthday and everyone else bought her "Pandora" charms, which I had never heard of before so I was a tad embarrassed to give her just this piece when they all gave her what she just started to collect (I didnt know because she lives in USA and I live in Canada). Some people don't appreciate the work that goes into hand made items.
I am making odd and ends and practicing different techniques, currently making a 3D fish with underwater flora. Will post it once it is finished


Emeraldz




Posts

: 9


Join date

: 2012-01-16


Location

: Ontario, Canada



Looking forward in seeing your 3D fish with underwater flora. I agree some people do not appreciate the work and effort to create something beautiful like Quilling, but anyone that does crafts do and we all love your work, you are doing a great job well done.

---
Permissions in this forum:
You
cannot
reply to topics in this forum